Raul Garcia of Pedazos de la Isla has a wonderful tribute to Reina Luisa Tamayo. I am proud to be quoted in it.
Here it is in its entirety (You can read it here in Spanish):
After a Difficult Journey, Reina Luisa Tamayo arrives to Miami
by Raul Garcia
Just a year and a few months ago, the life of a humble woman from the small town of Banes, Holguin, Cuba, was being destroyed.  She had already carried an unbearable weight for 7 years, knowing that her son was innocent yet he languished behind the bars of Cuba's dungeons.  Now, that same son was slowly dying just because one government decided it should be that way.  This story is the story of Reina Luisa Tamayo, the dignified mother of the Cuban political prisoner of conscience Orlando Zapata Tamayo who died after an extensive 85 day hunger strike and a brutal beating on behalf of the prison authorities as they carried out orders from Cuba's dictators.  But Reina's suffering did not cease there.  She decided to take to the streets to protest her sons assassination and to confront the Cuban dictatorship, echoing her son's demands: freedom, democracy, and the respect of human rights.
The violence on behalf of the Cuban tyranny only multiplied itself.  Days after the death of Orlando Zapata Tamayo, Reina Luisa was victim of, together with other Ladies in White, a physical mob attack where she was arrested, beaten, and threatened while the eyes of the democratic world only stared at their television screens as if it was all part of a horror film.  The weeks, months, and, in total, the year which followed only got worse.  Cuban political police agents, as well as soldiers in uniform, constantly impeded this hurt mother from marching through the streets of her own town as she tried to pay homage to her fallen son at his tomb.  Dozens of other dissidents were beaten just for accompanying this brave Lady in White, her house was constantly surrounded by political police agents, and the rest of her relatives suffered from blackmail and layoffs in their work places, in school, and even in their day to day lives in their own neighborhood.  Reina feared that they were going to take another son from her, or a daughter, a granddaughter, or her husband.  But she never feared what could happen to her.  She suffered innumerable arrests, beatings, and harassment but she always raised her voice on the streets, in her house, and through the international press, demanding that the murderous brothers who rule the Caribbean island leave power and pay for what they did to her peaceful son.
The rain fell heavily on that 7th of June over the small town of Banes when Reina had to firsthand witness how they exhumed the remains of her son before parting to exile in Miami.  And even then she remained strong, but the repressive watchdogs also remained stationed all around the cemetery ready to beat, detain, and even kill.  "The military, the police, and State Security took control of all the streets",  explained the dissident Marta Diaz Rondon who stood at the side of Reina during such a difficult moment.  This long day began at 7 in the morning and that meeting at the cemetery was followed by a march which set off from Reina's home.  Relatives and dissidents alike began screaming the usual slogans, "Zapata Lives", "Freedom for Cuba", and "Long Live Human Rights".
"All the streets were under the tight watch of the military", reiterates Diaz Rondon.  "(At the cemetery) there were high ranking officials- Colonel Sanper, Major Duglas (who was responsible for the arrest of Caridad Caballero a few weeks ago) from the Confrontation Unit of Holguin, along with others and also the doctors who were brought over from Havana to conduct the exhumation".  The dissidents paid no attention to the guardians of the dictatorship and began to pray an Our Holy Father and an Ave Maria while the exhumation began.  After that process they started shouting slogans like "down with the assassin Castro brothers" in honor of Orlando Zapata Tamayo who also shouted similar slogans while in prison and even during his final hunger strike.  "When the process concluded we all walked to the corner of the street where a bus awaited to take Reina and her family to Havana.  We also walked before the funeral car while holding images of Zapata and shouting his name", remembers Marta.  According to this dissident, who also has a long history of having suffered beatings and arrests, many neighbors cried and bid their farewells to Reina and her 12 relatives.
It was at that moment, when Reina and her family had to board the bus which would take them from Banes to Havana to cremate Zapata's body, that Marta Diaz Rondon realized it would be the last time she would see her infallible friend until Cuba is free.  "I felt a very deep pain", she said with a voice clearly wrapped with emotions and grief.  "I thank God that I was able to stand beside Reina until the very last minute", declares Diaz who never separated from the Zapata Tamayo family during the extremely difficult moments they faced since that black spring of 2003. "I felt like crying but I told myself to be strong.  I have to give strength to that mother so she can keep fighting and make it to Havana.  I never stopped supporting her.  I am sad because Reina was not only a sister in struggle, but I loved her as if she was my mother, like family.  I feel like I am missing something already and its her, for she always guided me and gave me strength", said Reina's good friend through a few emotional knots in her throat.
Meanwhile, the blogger and dissident from Holguin, Luis Felipe Rojas explains that the fact that Zapata's remains will leave Cuba and be relocated in exile "reaffirms a thesis" of his which he published on his blog a few months ago.  He posted it on an entry titled "Orlando Zapata: The Extension of his Body".  Luis Felipe states, "Zapata's body extended itself to activists who were detained, beaten, surrounded, etc.", adding that, "while his body is now moved to Miami, and saving the distance, we must remember that the remains of Felix Varela remained in the United States for a long time, and he never stopped being Cuban.  On the contrary, that land has offered a peaceful resting spot for many Cubans ever since the 16th, 17th, and 18th centuries.  Many rested in American soil".
Although it is difficult for the majority of dissidents to see Reina Luisa, her family, and the remains of Zapata leave the country, Rojas considers it to be a "blessing" explaining, "After this pitched battle in which the Cuban political police continuously impeded dissidents from traveling to the Banes cemetery, he will now be in a place where there are many Cubans.  And these Cubans will be able to see Zapata, while we were not able to, not even when we live less than kilometers from Banes because the repressive forces impeded it".  The activist reaffirms his point, explaining that "it is better for those remains to rest as closest possible to Reina.  I think the best argument Reina has responded with to any form of criticism on her decision is this: 'I have already lost one son, I do not want to lose another.  And that is why I am taking all of them with me'.  I believe it was a wise decision".
Both dissidents- Marta Diaz Rondon and Luis Felipe Rojas- agree that regardless of where Orlando Zapata's remains reside, his example and his spirit will continue guiding the Cuban opposition, giving them strength to keep resisting until a Cuba free from dictatorship is achieved.  The tireless dissident from Placetas, Jorge Luis Garcia "Antunez", who is an active member and leader of the National Civic Resistance Front which has been named "Orlando Zapata Tamayo", also affirmed similar sentiments in his Twitter account declaring that "Zapata is With Us".  From Havana, the blogger Ivan Garcia declared in his most recent post that the voice of Reina Tamayo, although exiled, will "continue to be heard as if it were over here, in your beloved Banes".  Luis Felipe also established a parallel between Zapata and other historical Cuban freedom fighters, "Although the body of Zapata will be in Miami, his spirit will remain in his battlefield, which is the same one of Boitel, Huber Matos, Marti, and many others who passed through the Cuban prisons.  The Cuban prison is the battlefield of the island, as are the streets".
In Miami, the capital of the Cuban exile, the atmosphere was bittersweet on the 9th of June- after having suffered so much by the side of Reina and her family from a distance, many were happy to finally see this brave woman in person and knowing that she will be safe and will not be victim of violent government-sponsored mob attacks.  I was able to firsthand witness these emotions.  At 4 in the afternoon at the Miami International Airport, Cubans of all ages began arriving.  Various exiled organizations which tirelessly fight for the island's freedom, as well as patriotic individuals were congregated around the airline arrivals hallway waiting to see the woman who was dubbed "The Mother of All Cubans".  Local bloggers send out Twitter messages, many waved Cuban and American flags, others carried signs with Zapata's face, some had white flowers, and the press took pictures and waited anxiously.  There were former political prisoners, exiled Ladies in White, grandparents, and grandchildren.  For a moment, that bridge of water which separates the Floridian city from the major of the Antilles seemed to dissolve. We were all one people, waiting to give that long awaited hug to a relative who was returning home.
Read the rest below the fold.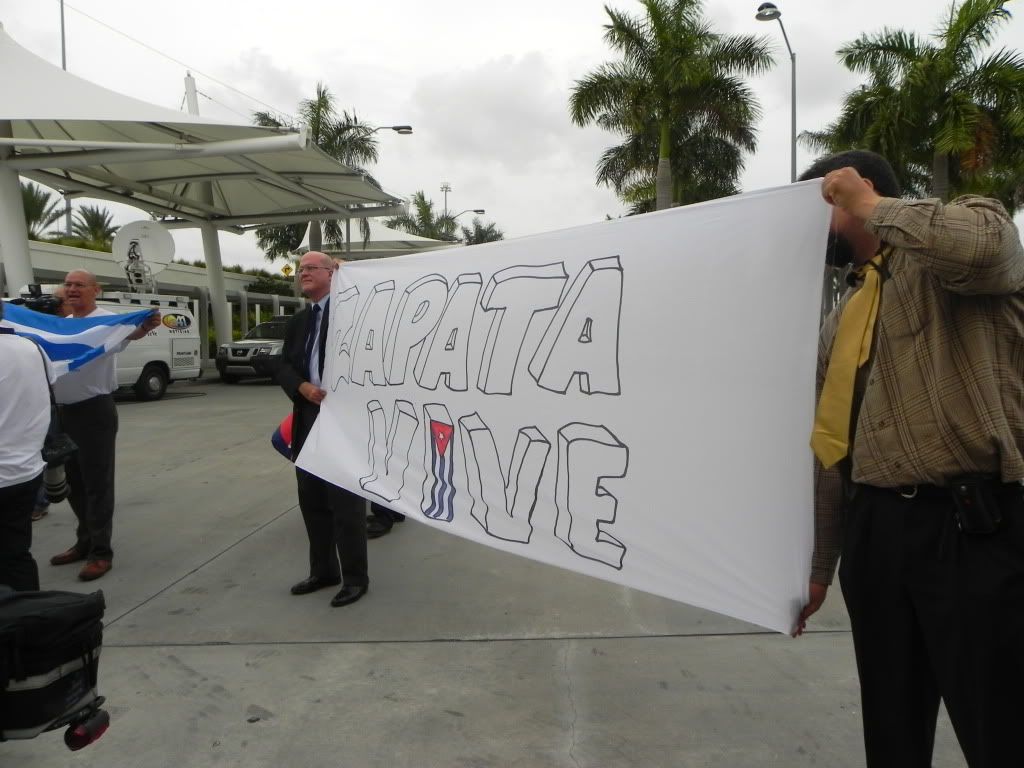 Finally the moment everyone was waiting for arrived.  The doors at the end of the hall swung open.  Various people walked out and began walking towards the crowd.  Someone screamed "Zapata Vive" and everyone present echoed the phrase in unison.  Surrounded by her husband, by friends, and (very important) by police officials who were protecting her and not repressing her, Reina Luisa Tamayo addressed the public while holding a box which contained the ashes of her sun and which was covered by a Cuban flag.  The "Zapata Vive" chants continued, accompanied by "Long Live a Free Cuba", "Long Live Christ the King", and "Long Live the Ladies in White".  Many began to cry.  I couldn't help but think how this tireless woman must feel.  Just a few days ago, Castro-sponsored mobs hurled insulting slurs at her, they threatened her, and beat her.  Now, dozens of Cubans shouted slogans in her favor, longed to giver her a hug, and welcome her to her new home.  The press quickly surrounded her, interested to capture what she had to say.  Clearly marked by stress and lack of rest, this did not keep Reina from speaking without a microphone.  With a strength that only someone so sure of their convictions can have, Reina thanked the exile community, the American government, and assured that she will continue her struggle so that her son's reality is known around the world and so that freedom will arrive to Cuba.  She concluded her emotional discourse by declaring "Long live a Free Cuba!".  Before departing, she stared towards the faces in the crowd and reaffirmed, this time in a stronger tone, "Long Live a Free Cuba!" until everyone repeated the phrase.
"I felt proud and honored to have the chance to witness her arrival, and that of her murdered son, in the United States",  shared the author of the blog "Uncommon Sense", the Cuban-American Marc Masferrer, who drove down from Tampa to share this emotional and historical moment alongside Reina and many other Cubans.  "It was bittersweet, but let us not forget that to get to this moment, Reina Luisa survived the worst the dictatorship it could throw her. Its goons have threatened and assaulted her, preventing her from properly mourning her son. Yet, they did not break her. Those of us who have been inspired from afar, saw and heard for ourselves on Thursday what an amazing and courageous woman she is. I was moved to tears. I just hope she now has the chance to properly mourn Orlando Zapata Tamayo", added Masferrer.
Exile is difficult whichever way one paints it.  Here, Cubans can be free, can establish their businesses, study, and enjoy their fundamental rights, but the land in which they were born (or their parents were born) never stops calling them, producing a strong sentiment of pain and separation.  But aside from this, many believe that from Reina's new city of residence she can still a great deal for the freedom of Cuba.  "Reina Tamayo will now become an international voice which will present the world with the moving testimony of the Cuban resistance", affirmed the national secretariat of the Cuban Democratic Directorate, Orlando Gutierrez Boronat who was holding a white sign with the phrase "Zapata Lives" drawed on.
On that day, June 9th of 2011, I realized what the sacrifice of Orlando Zapata Tamayo meant to me, as well as the bravery displayed by Reina Luisa Tamayo and all of her family members.  For me, they represent the pain of an entire island which has suffered day after day for 52 years.  It symbolizes all the other mothers who have lost their sons to executions, imprisonment, and beatings at the hands of the dictatorship.  It represents the millions of Cubans who left their country to search for freedom and life, as well as the millions who stayed to continue resisting from within the belly of the beast.  It symbolizes all the political prisoners which have gone to the dungeons just for defending democracy or for thinking differently.  It is a symbol of my grandmother who always spoke to me about "The Beautiful Cuba"- of what it once was, what they turned it into, and what it will once again be one day.  For me, listening to Reina assured me that the torch of Maceo, Marti, Varela, Boitel, and of so many other Cubans, has been passed to a worthy relay who will keep fighting for freedom wherever she may be.  I understood what dissidents on the island have always said, that Reina was a source of inspiration and a representation of the spirit of resistance.  But this also reminds us that the repression continues and that the ruthless dictatorship continues assassinating and jailing its dissidents, as well as destroying the entire nation.  If this were not the case, then Reina Luisa Tamayo would have never joined the exile.  She reminds us that the resistance in the island is still there, and continues to grow.  Each passing day, more and more Cubans take a stand against injustice in their country, in our country.  Right now, there are Cubans who risk their own lives through hunger strikes in order to demand that there be a new and just government, their are Cubans who risk their lives just to access the internet for a few minutes, or to scream in the streets that they also have rights.  There, in the airport of "the other province of Cuba", amid Cuban flags and signs which demanded freedom, there was also a profound pain.  But more than anything, there was an even stronger emotion- hope.  The hope that one day, soon, we will all be able to travel to Cuba without shackles and stand before a monument dedicated to thousands, the millions, who have given their lives for the freedom of their country, shouting in unison, "Zapata Lives On!"